Taking screenshots has become an essential part of our daily smartphone experience. From capturing a quick meme to saving important information or simply preserving a memory, they are absolutely indispensable. The Samsung Galaxy S21, with its elegant design and powerful features, is no exception when it comes to capturing stunning screenshots.
In this comprehensive guide, we will cover various methods to take screenshots on your Samsung S21, as well as delve into some advanced techniques to enhance your screenshot-taking skills. Whether you're a tech-savvy veteran or a complete beginner, this article will help you make the most of your Samsung S21's capabilities.
Let's dive in!
Basic Methods
1. Using the Button Combination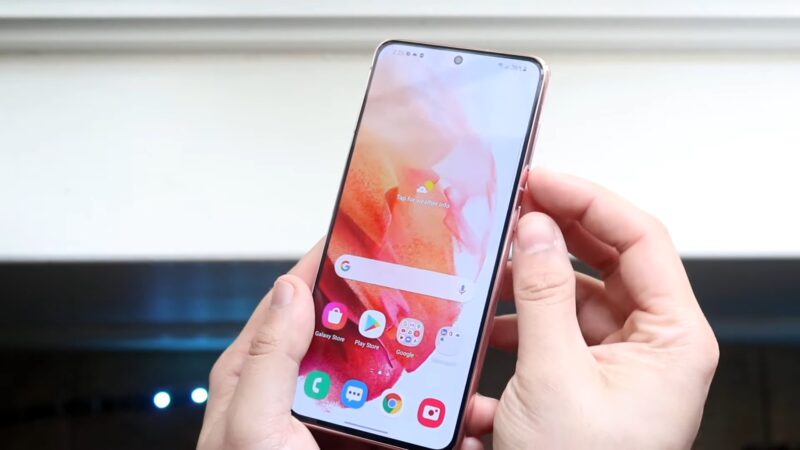 The most common method for taking a screenshot on your Samsung S21 is using a simple button combination. Follow these steps:
Navigate to the screen you want to capture.

Press and hold the Volume Down button and the Power button simultaneously.

Release both buttons once you hear the shutter sound or see the screen flash.
The captured screenshot will be saved in your Gallery under a folder named "Screenshots" or in the "My Files" app under "Internal Storage/Pictures/Screenshots."
2. Using the Palm Swipe Gesture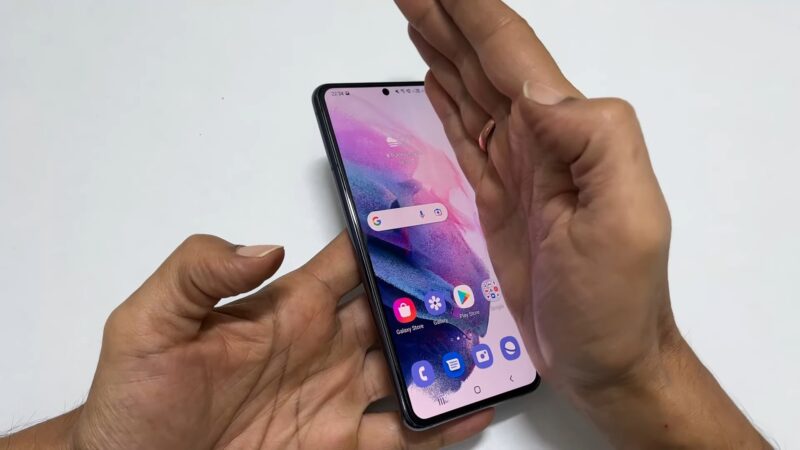 The Samsung S21 also supports a handy palm swipe gesture for taking screenshots. To enable and use this feature:
Open the "Settings" app on your phone.

Navigate to "Advanced features."

Tap on "Motions and gestures."

Toggle the "Palm swipe to capture" option on.
Now, to take a screenshot:
Place the edge of your hand vertically on the left or right side of the screen.

Swipe your hand across the screen, ensuring that your hand maintains contact with the screen throughout the motion.
Once the screenshot is captured, you can find it in the same location as mentioned in the button combination method.
Advanced Screenshot Techniques
1. Smart Select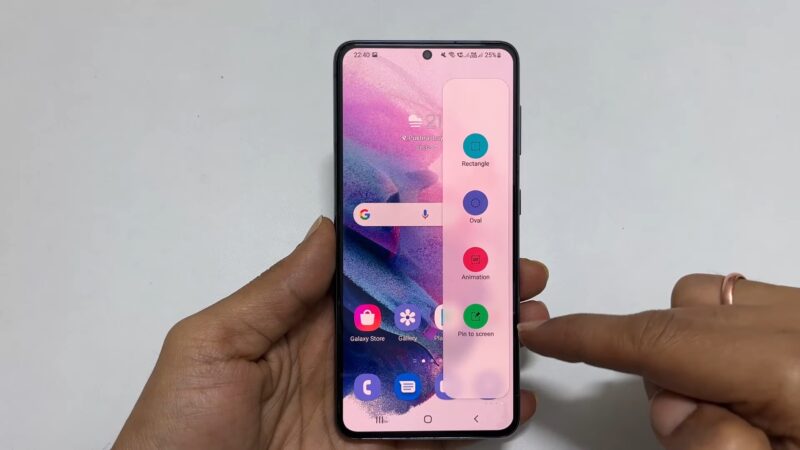 The Samsung S21's Edge Panel offers a feature called "Smart Select," which allows you to capture a specific area of your screen or extract text from an image. To enable and use Smart Select:
Open "Settings" and go to "Display."

Tap on "Edge Panels."

Toggle the "Edge Panels" option on and ensure that "Smart Select" is also enabled.
Now, to use Smart Select:
Swipe from the edge of your screen to open the Edge Panel.

Tap on "Smart Select."

Choose the desired shape for your selection (rectangle, oval, or GIF).

Adjust the selection area to cover the desired content.

Tap "Done" to capture the selection or "Extract text" to extract text from the image.
If you encounter any issues with your device and need to restart it, check out our guide on how to reboot your Samsung S21 for a quick and easy solution.
2. Scroll Capture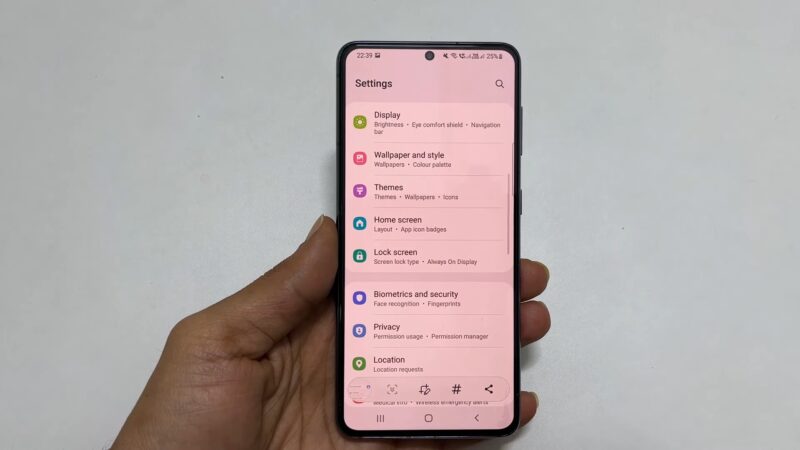 When you need to capture an entire webpage or a long conversation, the Scroll Capture feature comes in handy. To use Scroll Capture:
Capture a screenshot using any of the basic methods mentioned above.

When the screenshot toolbar appears at the bottom, tap on the "Scroll Capture" icon.

The screen will scroll down automatically, capturing additional content.

Continue tapping the "Scroll Capture" icon until you've captured everything you need, or tap "Done" to finish.
Editing and Sharing
Once you've taken a screenshot, the Samsung S21 offers various tools to edit and share it:
Immediately after capturing a screenshot, a toolbar will appear at the bottom of the screen with several options like "Edit," "Share," and "Delete."

Tap "Edit" to access a range of editing tools such as crop, rotate, adjust colors, add filters, and insert text or stickers.

To share your screenshot, tap the "Share" icon and choose from a list of available apps and services like email, social media, or messaging apps.
You can also edit or share screenshots later by opening the Gallery app, navigating to the folder where you saved them, and selecting the desired one.
Settings and Customization
The Samsung S21 allows you to customize several aspects of your screenshot experience:
To enable or disable the screenshot toolbar, open "Settings," navigate to "Advanced features," and then tap on "Screenshots and screen recorder." Toggle the "Screenshot toolbar" option on or off.

To customize the screenshot format (JPEG or PNG), go to "Settings," tap on "Advanced features," and then tap on "Screenshots and screen recorder." Choose your preferred format under "Screenshot format."

To change the location where snaps are saved, open the "My Files" app, navigate to "Internal Storage/Pictures/Screenshots," tap the three-dot menu icon in the top right corner, and select "Move." Choose a new destination for your screenshots.
Troubleshooting Common Screenshot Issues
Sometimes, you might encounter issues while trying to capture a screenshot. Here are some common problems and their solutions:
If the button combination or palm swipe gesture doesn't work, make sure you're pressing the buttons simultaneously or performing the gesture correctly. Also, ensure that the palm swipe gesture is enabled in your settings.

If you cannot take screenshots in certain apps, this might be due to security restrictions imposed by the app developers. Unfortunately, there isn't much you can do in this case.

If your screenshots are not saving or are missing, check your storage settings and ensure you have sufficient storage space available. You can also try changing the screenshot storage location.
Bonus Alternatives
Voice Assistant: Bixby Screenshot
The Samsung S21 comes with Bixby, Samsung's voice assistant, which allows you to take screenshots using voice commands. To use Bixby for capturing screenshots, follow these steps:
Set up Bixby by opening the "Settings" app, navigating to "Bixby Voice," and following the on-screen instructions.

Once Bixby is set up, access it by pressing and holding the Bixby button or saying, "Hey, Bixby."

Command Bixby to take a screenshot by saying, "Take a screenshot" or "Capture this screen."
Bixby will capture the screenshot and save it in your Gallery app, just like other methods.
Screen Recorder: Record Your Screen with Ease
The Samsung S21 also offers a built-in screen recorder that not only captures screenshots but also records your screen activities along with the audio. To use the screen recorder:
Open the "Settings" app and navigate to "Advanced features."

Tap on "Screenshots and screen recorder."

Customize your screen recording settings, such as video resolution, audio source, and the inclusion of a front camera view.

Save your preferences and exit the settings.
Now, to record your screen:
Swipe down from the top of the screen to access the Quick Settings panel.

Find the "Screen Recorder" icon and tap on it.

A countdown will begin, after which the screen recording will start.

Perform the actions you want to record.

To stop the recording, tap the "Stop" button in the floating screen recorder controls or swipe down the Quick Settings panel and tap the "Screen Recorder" icon again.
The recorded video will be saved in your Gallery under a folder named "Screen recordings" or in the "My Files" app under "Internal Storage/Movies/Screen recordings."
Final Words
The Samsung Galaxy S21 offers a wide range of screenshot capabilities, from basic methods like button combinations and palm swipe gestures to advanced features like Smart Select and Scroll Capture. Mastering these techniques will help you capture, edit, and share your favorite moments with ease. With this comprehensive guide, you're now equipped to make the most of your Samsung S21's screenshot functionality.